Best Gourmet Recipes – Popular and Easy Gourmet Recipes
The best gourmet recipes with all the instructions you need to recreate perfect gourmet dishes, and yet easy. We bring you precious collection of fine dining recipes, collected from top chefs, amateurs and our personal experiments. If you are passionate about cooking, you can also create gourmet dishes in your own kitchen. With few trial and errors, and some patience, you can also learn to master various culinary tricks in your kitchen. By opening up to experimenting and discovering new textures, favors, food combinations and aromas, you will be able to cook up your own repertoire of gourmet recipes in no time. Our objective is to help you bring the fine dining experience into your own kitchen with the collection of easy cooking gourmet recipes. Now you can create gourmet dishes in your own kitchen and Enjoy?
Baked chops top sliced potatoes for this substantial dish.
This classic Italian recipe of veal slow-cooked in milk.
An easy summer sandwich.
Traditional Indian style ice cream
Chicken wrapped around tomato-basil flavored feta cheese.
Frittata with Goats Cheese, Potato and Spinach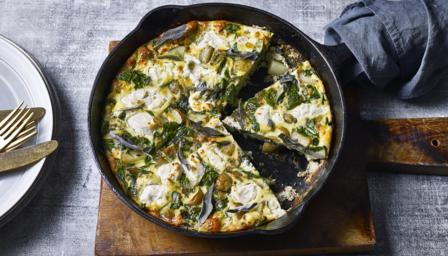 A great light supper with a green salad and some crusty bread.

A traditional Italian method of cooking pork that makes the meat wonderfully tender.
Lemon Cake with roasted Rhubarb
Lemon cake always goes down a storm
Easy comfort food.
Make a quick and easy, gluten-free, low-calorie lunch
Chorizo and Mozzarella Gnocchi
With gnocchi, chorizo and mozzarella for a comforting bake
Watercress Risotto with Cheese
The recipe complements the earthy flavors of the watercress.
Looking for comfort food? Try this delicious recipe.
Beef Wellington with Goats cheese, Garlic and Chervil mash and Beer gravy
Add a twist to the classic beef Wellington by serving it with an indulgent mashed potato dish.
The recipe uses homemade cabbage kimchi that you will need to make in advance, or you can use store bought kimchi.
Sea Bass with new potatoes  and watercress salsa
Sea Bass gets a fresh, spring treatment in this recipe.
Learn how to make porridge using the recipe, then experiment with other toppings.
Christmas Cauliflower Casserole 
A perfect dish to make ahead for Christmas morning, or any time of year.
Instant Pot cheesy and easy breakfast!
The creamy-tasting porridge is topped with great value thawed frozen fruit and toasted flaked almonds for extra protein.
Double-baked Souffles with Walnut Salad
From  salads to fancy tarts, the goats cheese recipe will give you inspiration for using this tangy, lip-smacking cheese.
Creamy and cheesy!
Crispy Goat Cheese Wantons with Chili Sauce
The most inspired Asian, Chinese recipe to try!
Feta Cheese and Hot-Smoked Trout on Toast
The cheese and  flaked hot-smoked trout flakes make great toppings for the toast.
A super satisfying meal, perfect for the rapidly approaching fall weather.
The simple homemade Cheese Ravioli will boost your gourmet cooking credit in just a short time.
Simple brunch recipe.
Goat Cheese and Tomato Lasagne 
An easy to make vegetarian lasagna.
The meal is just supposed to taste really good and it does.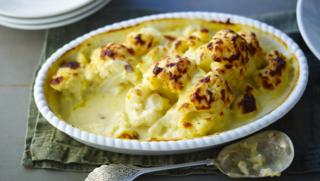 The Cauliflower cheese is a classic dish.
A real classic, and yet so easy to cook in the oven on the weekend.
The light-as-air souffle have a delicious cheese flavor.
Double Baked Goat Cheese Souffles
Twice baked souffles were fashionable a while back and recently, a revival as 'retro food'.
Rolling a roulade is the only tricky bit.
Fresh Fruit with Cereal and Goat Yogurt Breakfast
The savory goat cheese souffle recipe is easy and delicious.
The bread sauce recipe is an easy extra for Christmas Day.
Making sour cream is high on the list of  simple but delicious cultured goat milk products.
Dessert
Bourbon-glazed Doughnut with Malted Milk Ice-cream
Giant doughnut with homemade malted milk ice cream takes the food trend to the next level.
A simple starter mix helps to give this Hokkaido milk bread its light and fluffy texture.
This Pumpkin Bread with Brown Butter and Sage recipe keeps all the lush texture you expect from pumpkin bread while infusing delightful caramel notes.
This is a traditional Indian method of cooking 'Besan Halwa'.
Christmas Crepes                                                  Goats Milk Biscuits
Glazed Pears with Cinnamon Goat Milk Sauce, Brandy Snaps and Banana ice-cream
Goat Milk Dessert                                                Goat Milk Chocolate Tart
Salted Goat Milk Caramels                  Cheese, Apple and Pear Tart
Goat Milk Pastilla                                          Low-fat Cheese Cake
Goat Milk Sherbet                                   Rich Chocolate Sauce using Goat Milk
       Eggnog                                              Goat Cheese Mousse with Peppercorns
Goat Milk Panna Cotta                             Goat Cheese Dessert
Exclusive Education Savings
for Wondershare
Filmora 12
Edit Anywhere,in Every Way.
New Year's Eve Party
Breakfast Smoothie with Goat Milk
Goat Milk Chocolate Pudding                     Fresh Dill Bread
Whipped Cream                                         Yogurt Lemon Squares
Healthy Cream Pie Milkshake                        Pumpkin Flan                                             
Easy Cajeta                                                 Healthy Goat Milk Fudge