Japanese Milk Bread – Popular and Easy Bread Recipe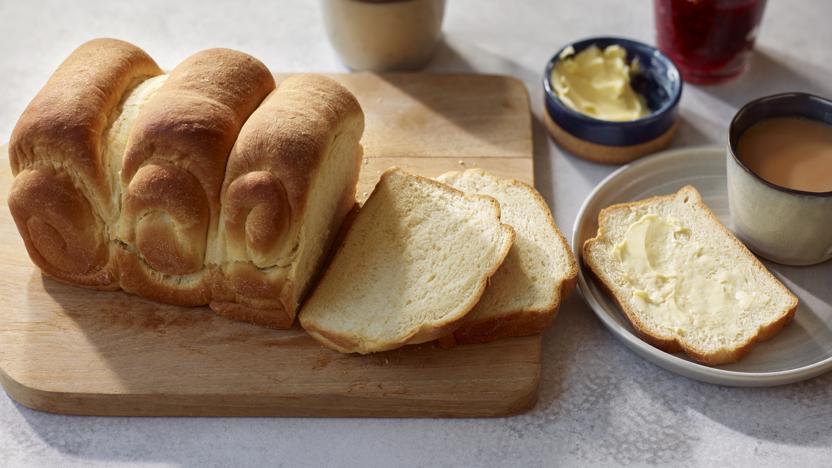 A simple starter mix helps to give this Hokkaido – Japanese milk bread its light and fluffy texture. Serve it with butter and jam for breakfast or afternoon tea.
This recipe requires over 2 hours Preparation time and 30 minutes to 1hour Cooking time, Serves 1 loaf.
Ingredients:
For the starter
For the dough
1 tbsp dried milk powder or sweetened condensed milk
120ml/4fl goat milk, at room temperature
55g/2oz unsalted butter, softened
325g/11½oz strong white flour, plus extra for dusting
55g/2oz granulated sugar
2¼ tsp (7g sachet) fast-action dried yeast
1 tsp salt
1 free-range egg, at room temperature, beaten
vegetable oil, for greasing
double cream or melted butter, for brushing
Directions:
To make the starter, put the flour, milk and 4 tablespoons water in a small saucepan over a medium heat and stir continuously for 4–5 minutes, or until the starter thickens to the consistency of mashed potatoes. Transfer to a bowl, cover and leave until the starter is at room temperature.
To make the dough, put the flour, sugar, yeast, milk powder (or condensed milk) and salt into the bowl of a stand mixer and whisk together. Add the milk, starter and beaten egg. Using the dough hook attachment, beat on a low speed for 5 minutes. Add the butter and beat for 5 more minutes. Turn the speed up to medium and beat for a final 5 minutes.
Transfer the dough to a lightly oiled bowl, cover and leave for 1 hour or until doubled in size.
Brush a 900g/2lb loaf tin with oil. Turn the dough out onto a lightly floured surface and divide into four equal pieces. Roll each piece out to a rectangle and then fold in each of the long sides. Starting at one of the shorter edges, roll up and then place in the oiled loaf tin, seam-side down. Repeat with the remaining pieces of dough. Cover and leave to rise for 45 minutes.
Preheat the oven to 200C/180C Fan/Gas 6. Once the dough has risen, brush the top of the loaf with cream or melted butter and bake for 35–40 minutes or until the top is golden brown. Carefully lift the bread from the tin and tap the bottom to check it sounds hollow.
Remove from the oven and leave for 5 minutes before removing from the tin. Leave to cool on a wire rack.
Exclusive Education Savings
for Wondershare
Filmora 12
Edit Anywhere,in Every Way.
New Year's Eve Party