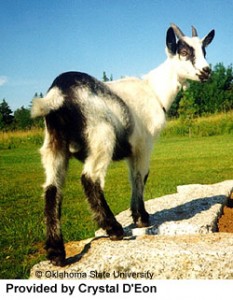 If you are a potential dairy goat owner, but you are not sure where to start, here are some steps that you might find useful, in terms of gathering information. While not complete, it will assist you be successful.
Educate Yourself About Housing and Fencing Needs
Dairy goats need protection from wild and domestic predators, from poisonous plants and shelter from adverse weather. Your specific needs will vary by location.  Do It Yourself books can be found  online. Quality housing and fencing are critical to the safety and well-being of your animals.
Many dairy goat owners use livestock guardian dogs or other guardian animals to stay with the goat herd 24 hours daily. Domestic and feral dogs account for most attacks on dairy goats.
Learn About Management and Care of Dairy Goats
Read an introduction to management and care of dairy goats
In addition, you can find your books and resources online as well.
The old proverb "an ounce of prevention is worth a pound of cure" couldn't be more applicable to managing your new dairy goat herd.
Learn About Milk Sale Law
Before you sell milk or milk products, you need to be aware of laws regulating those activities in your state and country as it may varies from state to states. You should be aware of the laws in your area as well as the potential risks associated with consuming unpasteurized dairy products.
As a beginner read about the key factors in successful  marketing goat milk products.
Learn About ALPHA S1 CASEIN Testing
Read about ALPHA S1 CASEIN Effects on cheese making
The a s1-casein is a protein polymorphism of goat milk, and is one found in all dairy goat breeds.
If you are interested in this testing for your does or buck you can approach ADGA.
Learn About Dairy Goats Lactation
Read about Compare dairy goats lactation
Lactation length and milk yield and composition for selected breeds of goats.
Understand and Determine which Goat Breeds Best Suit Your Goals
Read about breeds to consider and the basic descriptions of each dairy goat breed
Visit farms that raise the breed(s) of goats you are considering.
Conclusion
There's a lot more to learn about keeping a dairy herd. However hopefully, this overview will help you be mentally prepared as you start your journey with dairy goats.