How To Make Porridge; Popular and Easy Recipe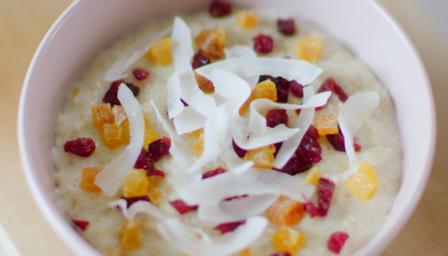 Let's learn how to make porridge using the recipe, then experiment with some tasty toppings. Try coconut and dried fruit, decadent chocolate and nut or simple berry and banana. The recipe requires less than 30 minutes preparation time, 10 minutes cooking time, and serves 1.
Ingredients:
50g/1¾oz porridge oats
200ml/7fl oz. whole goat milk
For the chocolate and nut porridge
1 heaped tsp cocoa powder
caster sugar, to taste
handful chopped nuts, such as walnuts, hazelnuts or pecans
1 tsp grated dark chocolate
For the coconut and dried fruit porridge
2 tsp dried cranberries
2 tsp chopped dried apricots
1 tsp coconut flakes or desiccated coconut
For the berry and banana porridge
½ banana, sliced
handful berries, such as blueberries, raspberries or strawberries
½ tsp runny honey (optional)
Directions:
Tip the oats into a small saucepan with the milk and 100ml/3½fl oz. water. Slowly bring to the boil, stirring. Reduce the heat and simmer for 5–10 minutes, until thick and creamy, stirring regularly to prevent the oats from sticking to the bottom of the pan.
If you are making the chocolate and nut porridge, stir the cocoa and sugar (if using) into the porridge as soon as it is cooked.
Remove from the heat, cover with a lid and leave to stand for 3–5 minutes. Add your desired toppings and serve.
*Recipe Tips:
To make the porridge vegan, replace the milk with a milk alternative, such as oat, almond or coconut milk.
To make the porridge gluten-free, use gluten-free oats instead.
Porridge topping options are endless. You can try adding grated apple or pear, cinnamon, a dollop of Greek yoghurt, nut butter or syrup.
Oats vary wildly in their cooking time, and the quantity of liquid used to cook them. The recipe uses porridge oats and not quick cook/instant porridge.
Exclusive Education Savings
for Wondershare
Filmora 12
Edit Anywhere,in Every Way.
New Year's Eve Party