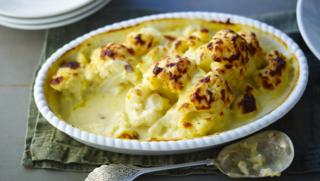 The Cauliflower cheese is a classic dish. It can be eaten as a main course, for lunch or dinner, or as a side dish. It requires  less than 30 minutes  preparation time, and 30 minutes to an hour cooking time. The recipe can serves 4.
Ingredients:
1 large head cauliflower – cut into florets
salt and freshly ground black pepper
For the sauce:
9 fluid oz. skimmed goat milk
¾ oz. butter
¾ oz. flour
6-8 rasps nutmeg
1½ oz. mature cheddar – finely grated
2 tsp English mustard
Directions:
Preheat the oven to 400 F. Wash the cauliflower thoroughly and place in a large saucepan of salted water. Bring to the boil and cook for 3-5 minutes, until the cauliflower is almost tender, but still fairly firm. Tip into a colander and leave to drain.
Meanwhile, make the sauce: melt the butter in a saucepan, add the flour and cook for 1-2 minutes, or until a light golden color. Gradually add the goat milk until smooth, then cook over a gentle heat for 3-4 minutes, mixing as you heat until thickened.
Add the nutmeg. Turn down the heat and add the mustard and cheddar cheese. Taste and add a little pepper to taste.
Arrange the cauliflower in and ovenproof baking dish. Carefully pour over the sauce, ensuring the cauliflower is completely covered. Scatter over the remaining cheese and bake for 25-30 minutes, until the top is golden-brown and bubbling.
Best Gourmet Recipes for you.
Nutritional facts:
Per servings contains 245 Calories: – Carbohydrate 16.1g, Protein 12.4g, Fat 15g, Sugar 8g, Fibre 2.8g, Salt 0.7g
Cheddar Cheese

Recipes for 75 Homemade Cheeses