How to Make Gulab Jamun – Popular Traditional and Easy Dessert Recipes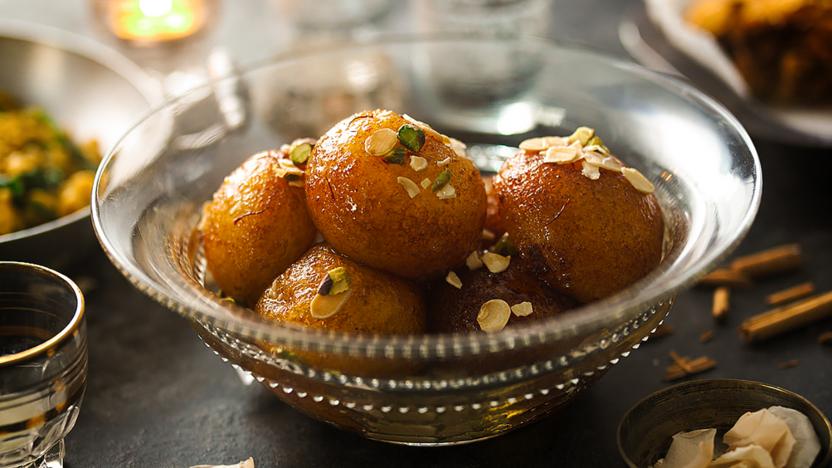 Happy Diwali!
Recipe to celebrate the vibrant Hindu festival of lights.
Gulab jamun are a popular classic Indian sweet originally made of milk solids, sugar, water rose and cardamom powder.
These sticky-sweet deep-fried dough balls aren't for those on a diet, but are an authentic Indian sweet.
This recipe requires 1-2 hours Preparation time, less than 10 mins Cooking time, and Serves 2.
Ingredients:
For the dough balls
350ml/12fl oz #CommissionsEarned goat milk
225g/8oz #CommissionsEarned powdered milk
25g/1oz  butter, #CommissionsEarned  melted
110g/4oz plain flour
1¼ tsp baking powder
½ tsp bicarbonate of soda
vegetable oil, for deep frying
For the sugar syrup
200g/7oz caster sugar
100ml/3½fl oz water
few strands saffron
To serve
1 tbsp chopped pistachio nuts
1 tbsp flaked almonds, toasted in a pan
Directions:
For the dough balls, mix all the ingredients together in a bowl, adding enough extra water to form a soft, sticky dough. Cover with cling film and set aside for 10 minutes. Shape the dough into small round balls.
Heat the oil in a deep heavy-bottomed frying pan. It is ready when a breadcrumb dropped in will sizzle gently in it. (*Caution: hot oil can be dangerous. Do not leave unattended.) Deep fry the balls until golden brown, then remove from the oil with a slotted spoon and set aside on kitchen papper to drain.
Make a sugar syrup by heating the sugar and water together with the saffron until the sugar has dissolved and the mixture is syrupy.
When the dough balls are cool, add to the syrup and leave to soak for about 1 hour.
Garnish with chopped pistachio nuts and flaked almonds and serve.
"As an Amazon Associate, I earn from qualifying purchases"
Dr.Fone V13
One-Stop Complete Mobile Solution
Wondershare Recoverit
Data Recovery
Exclusive Education Savings
for Wondershare
New Year's Eve Party