How To Make Fig Roly Poly Pudding – Popular Gourmet Dessert Recipe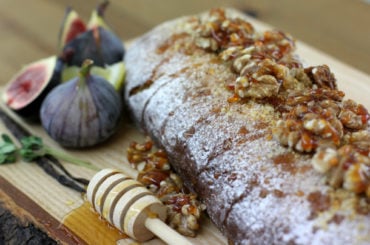 Good old recipe. Bring us some figgy pudding like no other. Thyme honey-infused figs make a delicious addition to a baked roly-poly pudding, serve with a walnut and honey ice cream.
The recipe requires 1-2 hours preparation time, 30 minutes to 1 hour cooking time, and serves 6.
Ingredients:
For the caramelised walnut and honey ice cream
150g/5½oz caster sugar
200g/7oz shelled, chopped walnuts
397g/14oz can condensed milk
50g/1¾oz thyme honey
50g/1¾oz soft mild goats' cheese (without rind)
600ml/20fl oz double cream
For the fig filling
1 x 250g/9oz pack semi-dried figs, tops trimmed
1 lemon, juice and zest only
40g/1½oz thyme honey
1 tbsp lemon thyme
For the suet pastry
175g/6oz self-raising flour, plus extra for dusting
pinch salt
100g/3½oz shredded suet
75g/2½oz ground almonds
1 lemon, zest only
100g/3½oz full-fat goat milk, plus extra for brushing
2 free-range egg yolks, plus 1 free-range egg, beaten, to glaze
50g/1¾oz thyme honey
1 tsp vanilla extract
vanilla-infused sugar for sprinkling, to taste
For the decoration
about 2 tbsp thyme honey, to taste
3 fresh figs (optional)
1 lemon wedge (optional)
fresh lemon thyme (optional)
vanilla pods, scrapped (optional)
Directions:
For the caramelised walnut and honey ice cream, start with the caramelised walnuts. Place the caster sugar in a small heavy-based saucepan and heat over a medium heat until all the granules have melted and a caramel forms. Lay the walnuts on a sheet of foil and pour the caramel over the walnuts. Leave to set and cool.
Beat together the condensed milk, honey and goats' cheese in a bowl until smooth. Whip the cream in a separate bowl until soft peaks form when the whisk is removed from the bowl and fold through the condensed milk, honey and goats' cheese. Break up half of the caramelised walnuts and stir them through the mixture. Set aside the remaining caramelised walnuts.
Transfer the mixture to a freezer-proof container and place in the freezer – alternatively place in an ice cream maker and freeze according to manufacturer's instructions.
For the fig filling, combine all the ingredients in a medium heavy-based saucepan with one tablespoon of water. Place over a low heat, stirring well until everything is well combined. Simmer and stir occasionally for about 10 minutes, or until the mixture is thick and the liquid has evaporated. Remove the pan from the heat and blend with a hand-held blender. Set aside for 10 minutes to cool slightly.
For the suet pastry, preheat the oven to 180C/fan oven 160C/350F/Gas 4.
Place the flour, salt, suet, ground almonds and lemon zest in a large bowl and stir together until well combined. Measure the milk into a jug and beat in the egg yolks, honey and vanilla extract. Slowly add the wet mixture to the bowl of dry ingredients and mix to a soft, but not sticky dough. Tip the dough out onto a floured surface and roll out to a 20 x 30cm/8 x12in rectangle.
Spread the fig filling onto the dough, leaving a 1cm/½in border all the way round. Gently roll the dough up from the short end, brushing with milk and transfer to a greaseproof paper-lined baking tray, seam-side down. Brush with a little beaten egg and sprinkle with vanilla sugar.
Bake for about 40 minutes, or until golden-brown, covering with a sheet of foil should the top and sides appear to be browning too much.
Remove from the oven and leave to cool slightly. Drizzle over the thyme honey to taste and place the remaining caramelised walnuts over the top of the roll. Serve with the ice cream.
You could also decorate with fresh figs (one cut in half, the other two with a cross on the top and the flesh opened slightly), plus a lemon wedge, fresh thyme and scraped vanilla pods around the pudding to reference the ingredients inside.
Christmas Tree Video
New Year's Eve Party
Filmora 12
Edit Anywhere,in Every Way.